Norwegian Customer Operations Specialist to Anyfin in Stockholm! 🇳🇴
Are you a highly skilled, experienced, customer operations specialist looking for your breakthrough opportunity? Are you ready to take on operational responsibility for the Norwegian market? If you are intrigued reading this, you should definitely keep reading!
About Anyfin
We've helped customers save millions by refinancing expensive consumer credits. But we aim higher. New markets, new tools, new products and new ways of improving people's financial situation. This means we need more brains and hearts. More people as passionate as we are. We hope this could be you.
Anyfin is a fintech company based in Stockholm. We provide smart tools that put financial power back in the hands of the people – where we believe it belongs. Everything we do is based on one vision: to improve the world's financial health!
About the job
Anyfin are soon launching their services in Norway and it's time to help thousands of Norwegians to a better financial health! To be a Customer Operations Specialist is a key role, you will have many responsibilities, for the business in Norway and it consists of areas like:
Improving and automating processes, develop internal administration system and also find the best way to grow the business in Norway.
Analyzing and review more complicated credit applications to deliver suitable offers.
Handling and automating customer communications and making sure we deliver according to set KPI:s.
Evaluate and compile performance and KPI:s reports
.
Anyfin are truly passionate about being on the customers side and creating an outstanding customer experience. As a part of the tightly knit operations team you will impact the customers and the success of the company on a daily basis. Anyfin is growing very fast and this is not an ordinary 9 to 5 job, but rather a great opportunity for you to develop within the company and make Norway in to a success!
We believe you
Have excellent communication skills in Norwegian and English
Have worked with customer service or similar for at least 2-5 years
Are keen to learn and willing to take initiative and responsibility
Are fearless and have a great desire to contribute to the team and company success
It's a plus if you
Have experience in credit handling, finance
Have had a leadership role and experienced recruitment processes (from employer perspective)
.
Practical information
Start: ASAP
Location: Stockholm, future trips to Norway might be required. Relocation assistance is possible.
Working hours: opening hours stretch beyond 9-5. Flexibility is required.
.
For this recruitment process, Anyfin is teaming up with The Wofi. All questions will gladly be answered by Amanda at amanda@thewofi.se. Make sure to apply as soon as possible, this is not an opportunity you want to miss, and we are reviewing applications on daily basis. We are looking forward to hearing from you!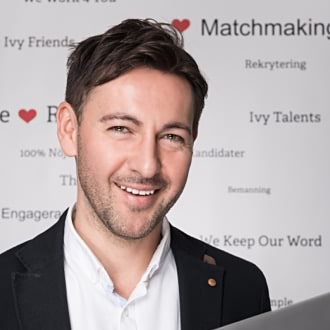 Relaterade jobb
Om Ivy Talents
Vi erbjuder rekrytering- och bemanningslösningar inom affärsområdena ekonomi, marknad, HR, kontor & administration.